Share this information with friends that are interested in knowing more about our online learning accredited courses for high school students. It will be a "no pressure" informational meeting. See if it is right for your situation. Students can take one course or a full curriculum with a flexible schedule. Send a message to laronda@andrews.edu to register.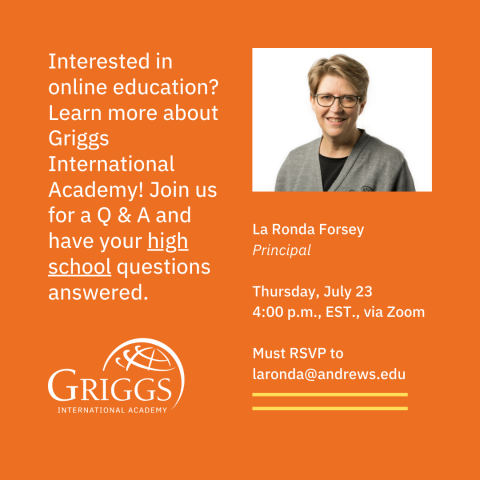 K-8 Summer Series: Special Announcement
Attention Grades K-8!  
On Monday, July 20, the author, Gordon Bietz,  of our devotional book, The Parables of Fenton Forest, will be joining us for devotional time!  Mr. Bietz will be reading the devotional thought for that day (chapter 5), How to Destroy Your Enemies.  

I hope you can join us for this special time with Mr. Bietz!  There will be time following the devotional reading to ask Mr. Bietz questions! We meet at 11:00 a.m. Eastern Time Zone for our devotional time.  Please arrive a few minutes early so you don't miss out! Click on the story time or mentor group link (found on most course home pages) to join the meeting!  Remember that the device you log on with needs to be associated with your student name so I can admit you to the meeting!  
See you there!
Blessings,
Mrs. Baldwin
IMPORTANT MESSAGE: Malware Incident
OVERVIEW/UPDATE FROM CHIEF INFORMATION OFFICER ON ANDREWS UNIVERSITY MALWARE INCIDENT
As you may have heard or experienced, Andrews University is responding to an encryption malware incident that occurred in early May.
The most direct impact from this malware incident was that many Windows servers on the Andrews campus became temporarily unavailable. 
Right now, our University's ITS team is working closely with external cybersecurity professionals and forensic investigators to determine the cause and scope of the incident and to identify solutions. That investigation is ongoing, but at this time we have no evidence that any information on our system has been accessed or taken.
As you may have experienced, this malware incident has affected Griggs K–12 students with interruptions to our online record-keeping systems. This service was restored for use just a few days ago. Due to that interruption, there was a delay in processing requests for exams, enrollments, transcripts and receipting payments. We apologize for that inconvenience. These services should now be fully operational, and we appreciate your patience as we attempt to respond to the backlog of requests. 
This malware incident has also temporarily suspended our access to our Outlook emails. If you have recently reached out to us via email and have not heard back, we kindly ask you to please resend your emails so that we can assist you as soon as possible.
As we continue to respond to this incident and its implications for our students and our campus, the ITS team has been working nearly around the clock to restore all the Windows-related services for the University and is making good progress. However, this recovery process will require continued work for several more weeks.
We are grateful for your patience and understanding. Andrews University and Griggs International Academy are taking this matter, and its impact, very seriously and will continue to take significant measures to protect the information that we maintain.
If you are having trouble accessing any Griggs International Academy resources, please contact our helpdesk via chat on our website www.griggs.edu or on our Griggs Online platform. You may also email the office of Student Services at griggsk12services@andrews.edu
Lorena Bidwell
Chief Information Officer
IMPORTANT MESSAGE REGARDING TESTING
We are experiencing server issues that is affecting our andrews.edu email addresses. Until further notice, please follow the instructions below:
For enrolled students, use Griggs Online to communicate with teachers and staff. Email TEST requests to sdestudents@gmail.com 
For new inquiries, email griggsk12@gmail.com 
We apologize for any inconvenience and appreciate your patience during this time. 
Summer Savings with Griggs!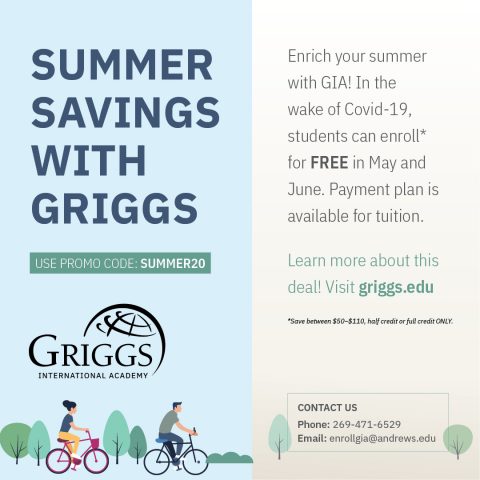 Please read carefully:
This offer is for the enrollment fee, tuition costs still apply
Students MUST enroll in May or June
Students can enroll in a half credit or full credit ONLY
Courses are online and self-paced
Other discounts DO NOT apply

COVID-19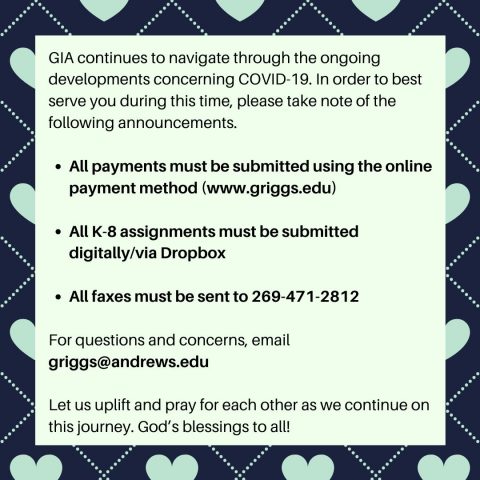 Transcript Request:
You can request your transcript by clicking on this "Transcript Request" link. For future reference, this link is under the ACADEMIC and STUDENT SERVICES tabs. 
Sibling Discount:
Starting July 1st, GIA is offering siblings a discount for their enrollment!

FAQ:

Q. What is the sibling discount? 
A. If you have two children enrolling at the same time, one of their enrollment fees is waived (of equal or lesser value). 

Q. What if I am enrolling three or more children? 
A. Parents will only have to pay one enrollment fee. 

Q. If I enroll my child and their cousin at the same time, will they receive the sibling discount? 
A. No. This discount is only offered to siblings, not extended family members. 

Students can enroll at any time with Griggs International Academy! 

For questions, contact Gabriela Melgar at melgar@andrews.edu, or phone 269-471-6497.